Our enterprise:
Mike remains fully dedicated to your needs and services.

Mike Services R.P.P.A. serves you with knowledge and experience in the automobile industry for over 35 years. We try to offer you the cheaper prices than somewhere else and we are directly negotiated with car manufacturers. All of our spare parts are not referenced on our website, so you can always contact us by call or send a message to a member of our team to check if product (s) that you are looking for is available in our stores
Our products are European quality assurance


Our customer service can be contacted 7 days a week

You can come to order at our shop or on eBay

We respond to your special demands

Satisfaction Guarantee (you can get a refund within 15 days in case of dissatisfaction)
Our team:
Our technical and commercial teams have 8 members and you can contact via phone or email for any questions
Our company is in continuous development, that's why we are always looking for the new talented sale agents in paint products or automobile sector all over France. Contact us if you are interested.
Our shop: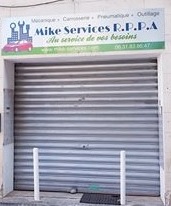 Our shop is located in Saint-Paul-Lez-Durance, Bouches-du-Rhône in France.
We can deliver your products directly at your home or your shop. You can also pick up your order directly at our shop that located at 13 Bouches-du-Rhône, Saint-Paul-Lez-Durance. You can order and choose the payment methods included free shipping (credit card, cash on delivery, check, transfer or pay directly at our store).