Payment methods:
Hand delivery or Cash on delivery:
We offer free delivery at your home or place of work in Bouches-du-Rhône or Aude areas for privileged customers or partners in Provence-Alpes-Côte d'Azur region. Customers can also pick up the orders at our store. In addition, you will be able to pay directly at the shop for saving on shipping costs. If you wish to use this payment method, it is crucial to contact us by email or telephone in advance. For our large professional partners in the automobile industry, we accept "30-day payments" only if a contract has been established between two parties.
You must send us bank check by post at the head office of our company, if you wish to pay your order by check, Metropolitan France and Corsica included. The order of the check must be issued in the name of the company.


We will send you an email on the day we receive your payment and we will inform you the preparation of your order. The payment by check only applies for the holders of the bank accounts located in Metropolitan France. Your order will be shipped once the collection has made within two working days. The information of the payment process is indicated when finalizing your order.
European bank transfer (SEPA):
SEPA (Single Euro Payment Area) bank transfer for European Union is credited to the beneficiary account within one business day after receiving bank transfer order. Bank information including the IBAN code and BIC code are sent after acceptance and validation of the order. For an international transfer, SWIFT code (Society for Worldwide Interbank Financial Telecommunication) will be provided. If you choose this method, an email containing all banking information of "Mike Services R.P.P.A" will be sent to you. Your order will be shipped once the transfer is received within two business days. Payment process information is shown when finalizing your order.
Immediate payment by Credit card/Visa/MasterCard/PayPal:
Transport Layer Security (TSF) certificate used to encrypt your data, TSF activates a padlock on the domain name and "https" protocol is displayed in your browser in order to ensure a secure connection between web server and browser. Then, you will be redirected to https://www.paypal.com to complete the validation process of your order. Our site is completely encrypted and secure but we prefer to use a trusted third party to receive payments to enhance your security. No data relating to your credit card is stored on our site.
If you already have a PayPal account, an email and a password are enough to finalize your order. Just enter your credentials to complete your transaction. All your purchases made by PayPal are protected in case of fraud or problem with one of our products such as package hasn't arrived, damaged product, loss of carrier, etc.
If you do not have a PayPal account, we use 3D secure platform as payment methods.

There is absolutely no need to create an account, it gives you an additional security in order to achieve a reliable and fast transaction.

You have several types of credit cards to choose such as Credit card, Visa, MasterCard, Maestro, American Express, Aurore card, 4-star card, Cofinoga card, etc. Your bank details are not displayed, exploited or stored on our website. You will benefit the protection of PayPal with or without account. The payment works immediately, your order will be shipped after verification of your data within 1-2 business days.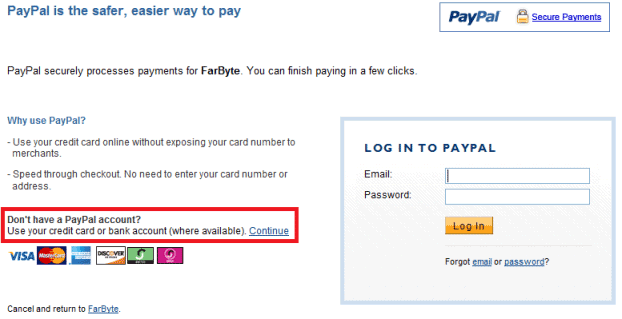 You can come to pay directly at our store that located in France for an order you have made on Mike-services.com website or by phone and chat. We are located right in front of the Town Hall, Place Commandant Jean Santini. We accept both cash and credit card so you can pick up your order on the same day.